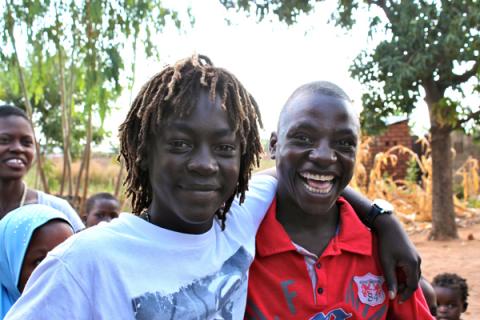 BLANTYRE, Malawi — Look for a billboard on the right and a sign on your left. There's a dirt road. Turn there.
In this part of the world, most of the streets have no names. So the directions we were given to find the new compound where my son's Malawian relatives relocated a few months earlier were pretty specific given the circumstances.
We had hoped to be able to visit with Vasco's 16-year-old half-brother, Juma, his Aunt Esme, and a handful of cousins and other relations for a couple of hours. By the time we found the family's new compound, we had less than an hour before we had to get back on the road, meet the rest of our traveling companions, and head north before the sun fell.
I was heartbroken. But when we pulled up in our van, Vasco's relatives were so happy to see us (and vice versa) that even the woefully short visit felt richly blessed. It had been three years since we'd seen each other. The last time was in May 2010 when Vasco, my husband, and I traveled from California to Blantyre for our adoption hearing. We spent a month in Blantyre and were able to get to know Vasco's extended family (or, sadly, what remains of it) and begin piecing together our son's complicated biography.
Since our last visit, Vasco, now 13, has grown about a foot and then some. He's also traded his close-cropped "Obama cut" for Bob Marley-esque locks. Vasco wasn't the only one who'd changed – visibly and otherwise.
Malawi is one of the poorest countries on the planet, with more than 9 million people living on about $1.25 a day. HIV/AIDS, which we believe claimed the lives of Vasco's birth parents before he would have entered kindergarten, remains a critical health issue. Among 15- to 49-year-olds, the HIV/AIDS rate hovers above 10 percent despite widespread efforts to combat the fully preventable disease.
Malaria, tuberculosis, and diarrhea-related fatalities remain high in Malawi. So does unemployment, particularly among younger workers in urban areas such as Blantyre, where it is approximately 70 percent.
But numbers neither tell the whole story, nor individual stories, with any eloquence at all.
Vasco's extended family – his Aunt Esme, her husband, and their children and grandchildren – moved from the clutch of mud-and-wattle huts a few kilometers away because the bore hole that provided potable water to their community dried up.
Where they now live has ample water and appears to be much "nicer," to use a wholly American term and perspective. Our visit fell on a Saturday, and many of the adult men and older boys were away working – a great sign that the economy, even for pieceworkers and subsistence farmers, has improved since 2010.
Esme, a woman in her early 40s with eight children and many grandchildren, looked healthier than when I saw her last. She'd put on some weight, her skin was glowing, and she smiled far more easily. The new family compound has bigger, tidy homes made of brick and offered more land to farm.
Hunger remains a serious issue in Malawi, but for the time being at least, Vasco's relatives have enough to eat and water for both drinking and crops. Esme proudly showed me the vegetables she'd recently planted and a mango sapling she was tending just outside her front door.
Juma had been at a nearby market when we arrived, and we worried we would have to go hunt for him. But then Juma bounded around a stand of tall grass and embraced his younger half-brother. (I've never been so happy to see anyone in my life.)
He is growing into a strapping young man with a huge smile and dynamism we hadn't noticed on our last visit. He's enrolled in school now (another indication that the family is doing well financially) and was able to communicate with Vasco in English – something they'd been unable to do in 2010.
Vasco is a few hairs taller than his older brother now, which took both of them by surprise. Vasco was living on the streets when we first met him in 2007, and and it was clear to all that Vasco is healthy – the result of his heart operation in Chicago in 2009 and four years of living with good medicine, nutrition and a loving, stable family.
What I found most interesting about our visit was that – to a person – each adult, including the headman of Vasco's ancestral tribe who had given us permission to adopt Vasco in 2009, asked about his education.
"How is Vasco faring in school?" they wanted to know. "Is he smart? Does he study hard? Are his marks good?"
I was happy to answer yes to all. He is also generous, has many friends, loves God, and is known for being kind. That seemed to make Vasco's family in Malawi happier than anything else I told them.
The most precious moments – and perhaps the most moving to all of us grownups – were the few minutes Vasco, Juma, and their cousins spent kicking a shiny new soccer ball my son had carried with him from California to give to his brother in Africa.
There was a time when Vasco was too sick to run and roughhouse with his brother and the other boys, when the hole in his heart prevented him doing what every boy wants to do: play.
Now, Vasco's heart is whole and strong. We all knew it without having to say a word as we watched our boys doing what boys anywhere do when there is a ball in their midst. They passed and juggled it with their feet; they were silly, they were happy, healthy, vibrant.
They were, each and every one of them, an answer to a mother's prayer.
Cathleen Falsani is the Faith & Values columnist at The Orange County Register. Via RNS.