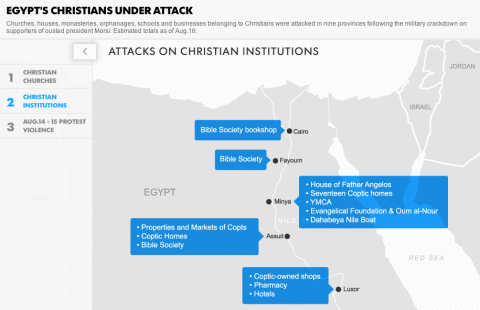 Since the July 3 ousting of former president Mohammed Morsi, Christians in Egypt have faced a shocking spike in violent attacks. Human rights groups in the country claim that to date, Egyptian authorities have not prevented the persecution.
Christians make up nearly one-tenth of Egypt's population of 80 million. While Egypt's Coptic Christians have faced longstanding persecution, many are reporting that tensions between Sunni Muslims and minority Christians are the highest they have been for decades. USA Today reports:
Churches, houses, monasteries, orphanages, schools and businesses belonging to Copts were attacked in nine provinces "causing panic, losses and destruction for no reason and no crimes they committed except being Christians," the Maspero Youth Union, a Coptic activist group, said Thursday.

Youssef Sidhom, editor-in-chief of the Christian weekly Watani, said the recent attacks are painful and vicious but it be worse if they are allowed to divide the two faiths.
USA Today has created an interactive map with real-time updates on attacks on Christian institutions, stretching from Alexandria to Qena. View the map here.
Read more of USA Today's story here.