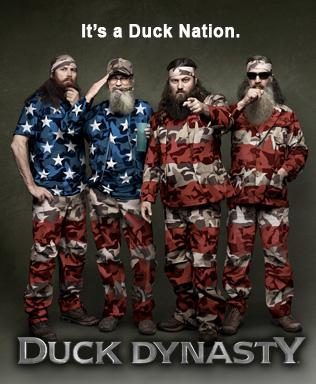 Hollywood producers often break every rule when it comes to publicizing faith and politics. But A&E's smash hit reality show, Duck Dynasty, puts it front and center.
A believer in God, family, and the nature of the outdoors, the show's Phil Robertson, 67, isn't afraid to talk religion on one of television's most popular programs.
In a July 20 appearance at
Saddleback megachurch
in Lake Forest, Calif., Phil and his son Alan, a Christian pastor of 20 years, stood before thousands of people to speak about the God that saved them from destruction.
Challenging the status quo that surrounds the controversies of religion, Phil's boisterous take on Christianity, family values, and morality had nearly
10 million viewers
tune in to season three's finale last April.
Sharing with the church the many challenges and triumphs their family faced throughout the years, Phil's oldest son Alan explained explicit details of Phil's addiction days, admitting that his first 10 years were some of the toughest days of his life.
Before becoming known as the million-dollar "
duck commander
" in the small town of Monroe, La., Phil was a man who struggled with marital issues and addictions to
alcohol, drugs, and sex
.
Before discovering his purpose in life, Phil admits that his ungodly actions nearly tore his family apart.
Alan, who remembered every painful detail, said that it wasn't until his father hit rock bottom and put his faith in the Lord (with the support of Mrs. Kay) that he'd discovered his calling on Earth — duck hunting.
"And when he became a Christian it's like the blinders came off and there was a clarity and a vision, and out of that vision he wanted to build a duck call," Alan said. "So the first duck commander duck call was built."
After its premiere in 2012, Duck Dynasty became an instant phenomenon.
The Robertsons' southern ways of living immediately captured the hearts of thousands of people. People tuned in each week in awe at the ways in which the Robertson family ate together, prayed together, worked together, and played together.
Fans and critics of the show may question how a man who once had so little, now, had it all: an unbreakable family bond, a solid relationship with God, financial success, and a television platform to share it all on.
I'd assume Phil's answer to that would simply be, God.
With constant buzz surrounding the show it's no wonder people love to watch the "backwoods" family in their most candid moments. With the way they do business, depict their love for one another, and resolve any issue, it is clear the Robertsons' spoken faith consistently remains at the center of the show.
At Saddleback, Phil said the world would be a better, more secure, and safe place if people were to just love the Lord and love their neighbor.
"You wanna get off planet earth alive, California, I can tell you this … You tell 'em, 'take me to the pot hole. I'm ready to do it. I want to put my faith in Jesus here and now tonight.' I would do that because you know what, it would turn your individual life around. Not only that, it would turn your neighborhood where you live around... It would turn your neighborhood around if we loved each other, it really would. It would turn your county around. It would turn your city around. It would turn California around, and boy do they ever need it, so does Louisiana by the way, it will turn your world around if people would but love God and their neighbor. It's not asking that much."
Season 2 of
Duck Dynasty
premieres
Aug. 14 at 10/9C on A&E.
Video courtesy
A&E
.
Katie Anderson is a summer Web Assistant for Sojourners.