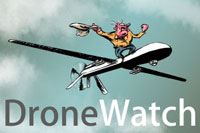 Who is targeted for killing in U.S. drone strikes? Counterterrorism adviser John Brennan claimed in his recent speech that:
"when considering lethal force we ask ourselves whether the individual poses a significant threat to U.S. interests. This is absolutely critical, and it goes to the very essence of why we take this kind of exceptional action. …We are not seeking vengeance, rather we conduct targeted strikes because they are necessary to mitigate an actual ongoing threat, to stop plots, prevent future attacks and save American lives."
But Greg Miller reported Sunday in The Washington Post
"The quickening pace of the U.S. drone campaign in Yemen this year has raised new questions about who is being targeted and why. A review of strikes there so far suggests that the Obama administration has embraced a broader definition of what constitutes a terrorism threat that warrants a lethal response.
In more than 20 U.S. airstrikes over a span of five months, three "high-value" terrorism targets have been killed, U.S. officials said. A growing number of attacks have been aimed at lower-level figures who are suspected of having links to terrorism operatives but are seen mainly as leaders of factions focused on gaining territory in Yemen's internal struggle."
A former high-ranking counterterrorism official said that targets must still be a "direct threat" to U.S. interests. "But the elasticity of that has grown over time," he added.