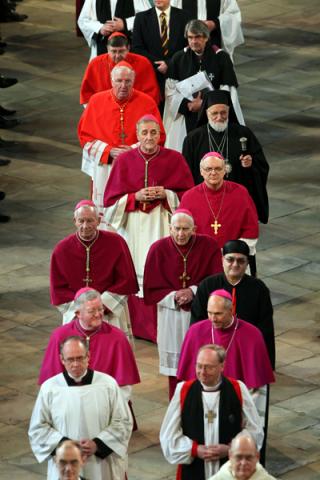 A well-known Anglican bishop in charge of the archbishop of Canterbury's campaign to attract young people to the church says he's ready to put on blue jeans and a T-shirt.
"There are people for whom vestments are profoundly helpful and those for whom they are a real obstacle," said Bishop Graham Cray who heads the "Fresh Expressions" campaign.
His statement follows reports that the General Synod, the Church of England's governing body, is prepared to debate a controversial motion that would make clerical vestments optional.
In a letter to Synod members, the Rev. Christopher Hobbs, vicar of St Thomas in Oakwood, North London, wrote: "In all walks of life people are less formal. And sometimes informality is good even in a very traditional parish."
The vicar's letter has sparked outrage among the established church's liberal as well as traditional leaders.
"It's outrageous," commented Giles Fraser, one of the Church of England's most popular young reformers in the Daily Mail. "What will they do next? Maybe we will have Jaffa Cakes and Coca-Cola instead of bread and wine at Holy Communion. … Vestments are a very ancient part of the church's tradition and they bring dignity to worship."
The controversy over whether to wear vestments at services comes as a poll commissioned by Westminster Faith Debates shows that in England nearly four in 10 people say they have "no religion." The figure rose to nearly five in 10 among those under 30.
Ecclesiastical robes have been enshrined in English laws here since 1604. The current rules date from the 1960s and they say that clergy conducting communion must wear a surplice — a white outer garment — or a longer version called an alb, with a scarf or stole around the neck.
Trevor Grundy writes for Religion News Service.