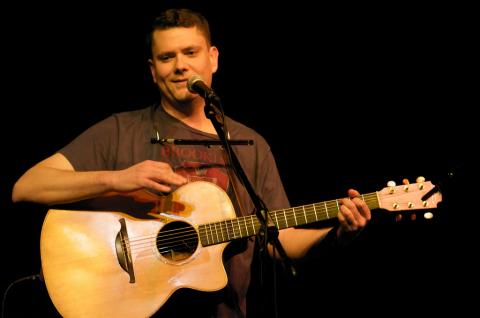 The first time I heard Jason Harrod sing was more than 20 years ago at a coffee house at Wheaton College outside Chicago where we were both studends at the time. He sang Neil Young's "Sugar Mountain," and his tenor voice was so pure, so perfect and sweet and heartbreakingly earnest, I ended up crying in my mochachino.
We're both now in our 40s, Jason is stil singing like an angel, and I'm still listening (occasionally in tears) along with many other fans who have discovered the unique charm of Jason's Smokey-Mountains-meets-Brooklyn-subway sensibilities and ever soulful wordsmithery.
Jason and his former musical partner in crime, Brian Funck, recorded "Lion Song" on their self-titled second album, Harrod & Funck that, while not a Christmas song per se, has always felt like a winter tune and tale to me. Seeking shelter from the cold and finding it. Getting lost and being found. The great gift of grace in all of its myriad forms — in relationship, in a light in the darkness, a glimpse of the horizon in the storm, or in the first toddling steps taken by a baby boy sent as a gift (to ALL) to heal and reconcile the world.
These two lions that I know,
As beautiful as they are strong,
Sleeping in each other's arms.

When the thunder rocks your bones,
And the night is cold and long,
Their jungle keeps you warm.

When you go out on your boat,
And the wind is whipping you,
And you feel the water rising,

See the line of blue on blue.
It's given as a gift to you.
And keep your eyes on that horizon.
Last year, Jason released an album of seasonal sacred music, Christmas Hymns, and his rendition of "Come Thou Long Expected Jesus" had a similar effect on me the first time I heard it as his live interpretation of Mr. Young's "Sugar Mountain" 20 years earlier.
In describing the hymn on his Christmas album, Jason said:
The lyrics to this hymn are by Charles Wesley, the same guy that gave us "Hark the Herald Angels Sing." It's set to a Welsh tune called Hyfrydol, which looks like it's pronounced like the sound an old man makes when he coughs. Wesley only wrote two verses, which is not enough, so I added one more, the one that says:

"When the world was steeped in darkness
When the world had lost its way
No hope in sight
No breath of light
You broke forth like break of day."
Last week, I asked our old friend what his favorite music of the season might be and here's what he had to say:
"My favorite Christmas Hymn (technically an advent hymn) is 'O come, O come, Emmanuel.' I like it because it expresses the longing for Jesus to be 'with us,' and also that tension I believe all Christians feel to some degree — that God is indeed with us, but also very far away."