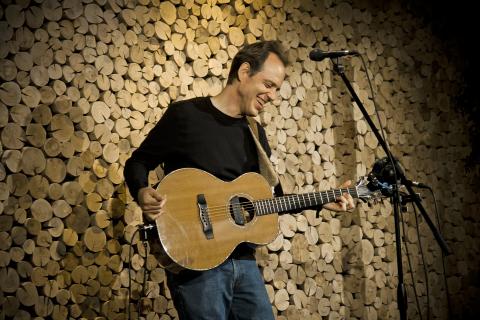 In this season of expectation as we await the incarnation of God-with-us, my heart turns to a song that, to me, captures the spirit of Christmas.
It has no jingle bells or chestnuts roasting by an open fire. There is no explicit reference to mangers, magi or a baby boy. But Asheville, N.C.'s favorite son, singer-songwriter David Wilcox, nails the heart of the Christmas story in his song, "
Show the Way
."
The sense of expectation, pearched on the edge of our seats waiting for something to happen — waiting for the divine surprise — is palpable in the song David first recorded on his 1994 album,
Big Horizon.
And while David's tune "
Miracle
" — a whimsical retelling of the story of the Three Wise Men (whom he calls the "Three Wise Guys") — is also a Christmas favorite, it's "Show the Way" that I return to in Advent, as we abide with joy, waiting to hear the cry of a tiny baby in a stable in a backwater town in the land we call "Holy."
"Show the Way"
By David Wilcox
So now the stage is set. Feel you own heart beating
In your chest. This life's not over yet.
so we get up on our feet and do our best. We play against the
Fear. We play against the reasons not to try
We're playing for the tears burning in the happy angel's eyes
For it's...
Love who makes the mortar
And it's love who stacked these stones
And it's love who made the stage here
Although it looks like we're alone
In this scene set in shadows
Like the night is here to stay
There is evil cast around us
But it's love that wrote the play...
For in this darkness love can show the way

So what's David's favorite Christmas song? Here's what he told me:
"It's a tie between: "In the Bleak Midwinter", and "Lo, How a Rose Ere Blooming." Both lyrically deep [with] hope. Standing in the center of a big choir singing those melodies is a soulful thrill. I love the choral arrangements with the wild passing dissonance and gorgeous suspensions aching for resolution. That's the soundtrack of my soul."
As we featured
a choral rendition of "In the Bleak Midwinter" here yesterday
(it's also a favorite of Carrie Newcomer), here is a magical, mystical interpretation of the song performed by another of our favorites, Canada's Loreena McKennitt, followed by a rendition of "Lo How a Rose Ere Blooming" by our homeslice Sufjan Stevens from his epic (really, it's amazingly long)
Songs for Christmas
album of a few years ago.
"In the Bleak Midwinter"
By Loreena McKennitt
"Lo, How a Rose Ere Blooming"
By Sufjan Stevens