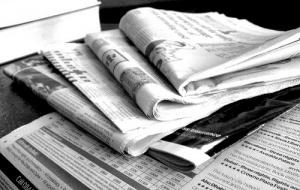 CNN: Zimmerman 'Sorry' For Loss Of Martins' Son; Bond Set At $150,000
After George Zimmerman took the stand during his bond hearing and told Trayvon Martin's parents that he was sorry for the loss of their son, a Florida judge Friday set Zimmerman's bond at $150,000.
Learn more HERE
THE WASHINGTON POST: Will Right Wing Really Let Mitt Romney `Pivot' On Immigration?
So Mitt Romney was overheard the other day saying it might be a good idea to come up with a "Republican DREAM Act," such as the one being worked on by Marco Rubio, in order to make inroads with Latinos in the general election.
Learn more HERE
THE HUFFINGTON POST: The Evangelical Left In History And Today
Public reports usually focus on the majority of evangelicals recently affiliated with the religious right. We generally hear little, however, about the third of evangelicals who lean in the other direction (except for a few well-known figures such as Tony Campolo or Jim Wallis).
Learn more HERE
FOX NEWS LATINO: Nebraska To Provide Prenatal Care To Undocumented Immigrants
Forced to choose which social issue troubled them the most, abortion or illegal immigration, conservative Nebraska lawmakers chose abortion.
Learn more HERE
SALON: Congressman Ryan's Delusional Politics
Paul Ryan, as a right-wing libertarian, has never expressed a commitment to the idea of social justice, nor is he able to comprehend that the notion that the public interest is something different and distinct from a mere aggregation of self-interests.
Learn more HERE
SAN FRANCISCO CHRONICLE: Religion, Politics Didn't Always Meet On The Right
Here's a newspaper headline that might induce a disbelieving double take: "Christians 'More Likely to Be Leftwing' And Have Liberal Views on Immigration and Equality." Sounds too hard to believe, right? Well, it's true - not here in America, but in the United Kingdom.
Learn more HERE
MOTHER JONES: There Are More Protected Places on Earth Now Than Ever Before
In case it sometimes feels like we've never done anything good for the wild parts of our planet, take a look at these stats from the World Database on Protected Areas (WDPA).
Learn more HERE
SALON: Sudan's Return To War?
As fears mount that Sudan and South Sudan will return to war, a South Sudan army commander here says he does not intend to withdraw troops from the disputed Heglig oil fields and he is prepared to fight.
Learn more HERE
THE ATLANTIC: How Americans Lost Trust In Our Greatest Institutions
Johnny Whitmire shuts off his lawn mower and takes a long draw from a water bottle. He sloshes the liquid from cheek to cheek and squirts it between his work boots. He is sweating through his white T-shirt. His jeans are dirty. His middle-aged back hurts like hell. But the calf-high grass is cut, and the weeds are tamed at 1900 W. 10th St., a house that Whitmire and his family once called home. "I've decided to keep the place up," he says, "because I hope to buy it back from the bank."
Learn more HERE
THE DAILY BEAST: Awaiting A Verdict In Charles Taylor's War Crimes Trial
The verdict on Charles Taylor, former president of Liberia, will be announced on April 26 by the Special Court for Sierra Leone. It has sat for over three years in The Hague to hear accusations that in order to gain a share of Sierra Leone's diamonds, he conspired with Foday Sankoh's Revolutionary United Front to wage Africa's most brutal war against a democratically elected government. Taylor and Sankoh (who died in 2003) are alleged to have trained in Libya at the invitation of Col. Muammar Gaddafi (an "unindicted co-conspirator").
Learn more HERE