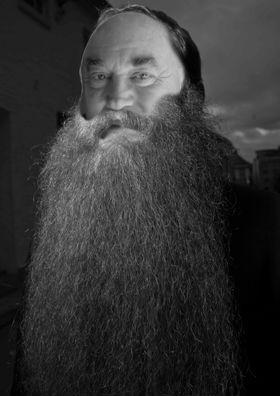 IFC's latest show is dedicated to fans of the facial hair: Whisker Wars! And to celebrate new beginnings, fans can "beard themselves," using the wonders of a webcam and face-in-hole technology.
Speaking of facial hair... Etsy find of the day: Ron Swanson Christmas cookies. The gun-toting, meat-loving, mustachioed misanthrope/libertarian-with-a-heart-of-gold star of Parks and Recreation is now available in edible form, with customizable pictures and quotes.
Tweet the Bible is a project that has been gaining attention since it began on 11/11/11. Beginning with Genesis 1:1 and spanning through the entirety of scripture (Deuterocanonical books not included) the project is scheduled to conclude in 86 years.
On a similar note, "Word" is a recently completed project that combines art, design, and scripture. Each artistic print provides a unique flavor to the messages behind the biblical books.
This year, an artist in Edinburgh, Scotland has secretly been leaving intricate paper sculptures in museums and libraries around the city. The latest of work appeared in November at the Scottish Poetry Library, which is where the sculptures began months earlier. See classic works, like Jurassic Park, come to life in a new way.
The official chaplain to the Colbert Nation (and our bloggerina's "favorite Jesuit"), the Rev. James Martin, explains the journalists' role in distinguishing humor from mockery, especially as it relates to religious news.
Ina Garten's famous lobster mac n' cheese recipe is now available in video form. For this and more, visit her digital kitchen.
Restaurant Opportunities Centers United just released an ethical guide to eating out. Listing over 186 of the most popular restaurants in the United States, the study highlights those that treat their employees right. For more see Good Magazine.
Joshua Witchger is an editorial web assistant for Sojourners.