Both horror and Christianity should be unsettling.
As homeschooling grows, marginalized students, parents, and their supporters are working to create inclusive communities.
Calls for "religious freedom" often have more to do with whiteness than the Bible.
Sojourners Magazine
A glimpse of the people who got it all started.
How the Bible affirms transgender and nonbinary people. 
In the region, as elsewhere, the stained-glass ceiling is beginning to crack.
Is this the price we must pay for entrance into delight, rest, or relationships?
I'll keep on loving this holy, physical world.
The region has a rich history of nonviolent resistance.
It's not enough to carry bags of flour to those experiencing the impact of our actions. Our grief must play a part in generating climate-adaptive solutions for the most vulnerable now.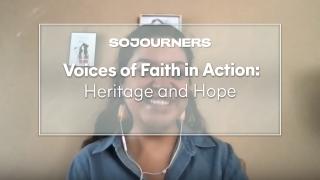 Vanessa Martinez Soltero is an activist bridging her Christian faith and Indigenous traditions to sustain herself and community.
Faith leaders have a message for survivors. We believe you.