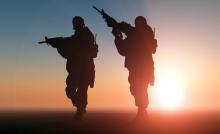 "If then there is any encouragement in Christ, any consolation from love, any sharing in the Spirit, any compassion and sympathy, make my joy complete: be of the same mind, having the same love, being in full accord and of one mind." 
Phil. 2:1-2
I write this essay on the eve of a US led air campaign that marks "the biggest direct military intervention in Syria since the crisis began more than three years ago." There is no denying that ISIS/ISIL has captured the attention of the world through its religiously inspired acts of violence. The atrocities committed in recent months by ISIS/ISIL have left countless people of faith—including many devout Muslim leaders across the world—speechless.
Yet, one of the central aspects of religiously inspired violence is that it rails against silence. Whether it is Christian violence in Nigeria and Uganda, Hindu violence in Western India, Jewish violence in Gaza, or Islamic violence in Indonesia and Syria, acts of terror demand denunciation. The ubiquity of religiously inspired violence across cultures and religious traditions lends credibility to the belief of some that religion itself is the problem. My own Christian tradition treats our inclination to harm and even kill one another as symptomatic of our fallen natures; it is a mark of our propensity to evil. This is what makes religious violence so pernicious: it twists our one remedy so that it exacerbates the disease.
Violence—whether it arises out of a Quentin Tarantino film or a YouTube video of decapitation—captures our attention. Even as we are repulsed by the scope of human depravity, such acts of violence consume our attention. Scenes of violence are like a mirror into the darkest parts of our soul: we cannot bear the images we see, but neither can we turn away.