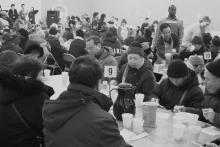 "This will be a sign to you: You will find a baby wrapped in cloths and lying in a manger." Luke 2:12
As the people walked into the sanctuary, the worship team behind us started to sing. "This is Jesus, in his glory." I stood there in my apron, gloves, and hairnet — as I had many times before — and watched our guests sit down at their tables. The first few people who came in were elderly Chinese, more women than men. Then, a middle-aged Latino man came in, followed by a few more elderly Chinese women. For a brief moment, there reflected in their faces, was Jesus in his glory.
This past Saturday morning, I served at my parents' non-profit's soup kitchen and food pantry, as I had for half of my life before I moved to Washington, D.C. From 9:30am-11:00am every Saturday morning, unlimited breakfast is served to a range of New Yorkers: young, old, employed, unemployed, white, black, Chinese, Latino, gay, straight — you name it, we've got it. Our guests are seated and given all they can eat and a bag of groceries, as well as access to legal aid, GED and ESL classes, and prayer. As much as it pains me to admit it — because, well, it's my parents' work — it's kind of the real deal. The sanctuary-turned-cafeteria turns back into a sanctuary as Jesus — as seen in each of these men and women and children—is seen, in his glory.