Oak Creek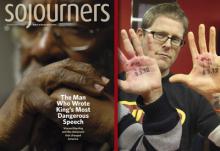 How an act of hatred brought together two unlikely allies in the struggles for peace.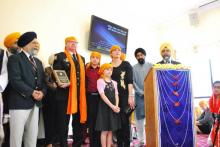 Brian Murphy attended Catholic Mass regularly, both before and after he took 12 bullets while trying to defend a Sikh temple in Wisconsin from a gunman in 2012.
But he says the principles he's learned from the Sikh temple have helped his recovery.
Now, a Maryland-based Sikh organization has honored the retired police officer for his service when a gunman killed six worshippers at the Sikh Temple of Wisconsin.
The Guru Gobind Singh Foundation, a Maryland-based Sikh advocacy organization, honored Murphy on Sunday — on Vaisakhi Day, a Sikh holy day — with a Sewa (service) Award, given annually to someone who has contributed to the Sikh community.
Amid a rash of recent attacks that are being investigated as hate crimes, a coalition of more than 150 organizations is calling on the Senate Judiciary Committee to conduct hearings next month with the aim of revamping hate crime legislation.
Led by the Sikh Coalition, the group of civil rights and religious organizations issued a letter on August 21 urging committee chairman Sen. Patrick Leahy, D-Vt., and ranking member Sen. Chuck Grassley, R-Iowa, to look into hate crimes and hate groups in the United States.
The letter noted that the shooter that killed six at a Wisconsin Sikh temple, or gurudwara, in August had ties to hate groups. It also cited 10 Islamic institutions in seven states that have been vandalized, shot at, or burned in the past month.