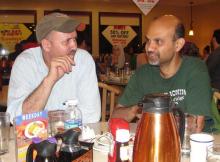 Muslim immigrants to America frequently worry whether their children will be able to maintain their Islamic identity in a country with a reputation for rampant vice and promiscuity. Many respond by limiting their children's social contacts to school, family, and mosque.
But that approach can backfire, some Muslim family experts say. While they advise parents to help their children make Muslim friends, they also say Muslim kids can — and should — fully participate in American culture without compromising their Islamic values.
It's a formula that's worked for generations.
Farhat Husain was 23 when she left Pakistan in 1964 for England, where her husband received his Ph.D. at Oxford. Her daughter was born there in 1967, before the family moved to New Haven, Conn., in 1969, then to the Boston area in 1971. Her son was born there in 1976.
Both she and her husband were practicing Muslims and well-educated, and wanted the same for their children. She became involved in the international clubs at the universities where her husband worked — cooking for potlucks, manning information booths and presenting about Islam at churches, community centers, and her children's schools.