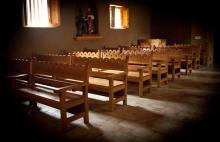 Merry what? Just in time for Christmas, new statistics show "no religion is the new religion" in Great Britain, according to a study released Monday.
The study, by Westminster Faith Debates, finds 38 percent adults in Great Britain, and 48 percent of those ages 18 to 29, checked no religion in online surveys conducted in January and June by YouGov.
These numbers fall midway between the findings of two other British studies that both show a trend away from the pews.