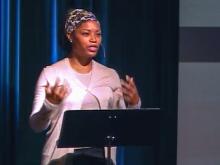 At an organization where 45 percent of U.S. senior leaders are women, Romanita Hairston's gender is mostly a nonissue as she oversees children's welfare programs at World Vision, the giant evangelical relief agency.
But in the larger evangelical universe, high-ranking women like Hairston remain a relative rarity.
"I think it's kind of inappropriate at this time in history to be shocked, but I think there are places where I'm one of the few women in a position of authority or shaping theological perspective," said Hairston, a World Vision vice president who serves on boards and teaches about gender inequity at Seattle Central Community College.