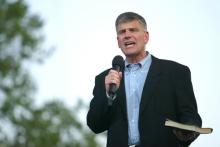 Evangelist Franklin Graham has apologized to President Obama for questioning his Christian faith and said religion has "nothing to do" with Graham's decision not to support Obama's re-election.
   
Graham's Tuesday apology came after a group of prominent black religious leaders criticized the evangelist for saying he did not know whether Obama is a Christian and suggesting that Islamic law considers him to be a Muslim.
   
Graham, president of the relief organization Samaritan's Purse and the son of famed evangelist Billy Graham, said he now accepts Obama's declarations that he is a Christian.
   
"I regret any comments I have ever made which may have cast any doubt on the personal faith of our president, Mr. Obama," he said in a statement.