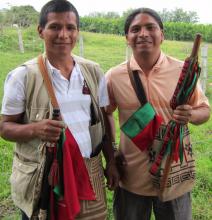 Activists from Colombia's indigenous Nasa people continue to make headlines — but there's far more to their peacemaking  than the occasional story that makes the U.S. news. Here's part II of the interview I did with two Nasa Indigenous Guard members, Manuel and Herman, in Cauca, Colombia, last August. The interview took place a month after an earlier round of violence: a bus bomb, suspected to be from the FARC, that went off in the town of Toribío, killing three and wounding more than a hundred in July 2012.
Sojourners: What's it like to be in the Indigenous Guard?
German: Being an Indigenous Guard is very risky.  Obviously there are moments of conflict in which you know what you're facing -- then there are moments of apparent calm, but calm can switch into situations of risk very quickly.