Putting Down Stones Free Download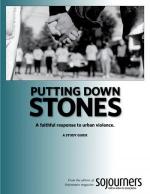 In response to the national conversation on gun violence, Sojourners is offering a FREE download of "Putting Down Stones: A Faithful Response to Urban Violence."
Putting Down Stones is a tool to help people set down their weapons and lay the foundation for initiatives that lead to peace. Ift offers Christians and other people of conscience encouragement and guidance to use their gifts and skills to bring bout reconciliation and justice. Our hope is for the church and the wider community to discover the next steps that can be taken to heal our cities and ourselves.
To receive your free copy, please fill out the form below and click "submit."