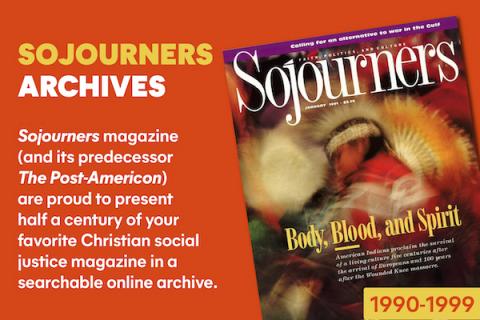 In 1968, Dr. King asked our nation a prescient, urgent, and timely question: Where do we go from here? Chaos or community? In this post-Cold War era of unbearable dissonance between promise and performance, between good politics and good policy, between America's racial creed and America's racial deed, between professed and practiced family values, between calls for community and rampant individualism and greed, and between our capacity to prevent and alleviate child deprivation and disease and our political will to do so, his question demands our 1995 answer with more urgency than ever.
I believe that the overture of our nationhood, the Declaration of Independence, is awaiting its next movement-a movement that is mighty and positive and transforming. A movement which returns us to our founding truths that "All men are created equal" and "are endowed by their creator with certain inalienable rights," among them "life, liberty, and the pursuit of happiness."
The ensuing centuries of struggle to extend these truths to women, racial and other minority groups, and children must continue, especially in this time of national moral confusion, family and community breakdown, economic fear, and political volatility. If we are going to prevent America's dream and future from becoming a nightmare, we must not sign any new political "contracts" before we review our Old and New Testaments and our American covenant.
GOD'S MESSAGE THROUGH the prophet Zechariah "to see that justice is done, to show kindness and mercy to one another, not to oppress widows, orphans, foreigners who live among you, or any one else in need" does not change with political fashion. The gospel's injunction, sent into the world by a poor, homeless child Christians call Savior, to bring good rather than bad news to the poor and to set at liberty those who are oppressed, cannot be overruled by political or media pundits anymore than America's enduring values of fairness and opportunity can. God's call to heal and to care is clear and unchanging. Never has that call been more urgent.
Since Dr. King's death, more than one million Americans have been killed violently here at home, including tens of thousands of children. Two hundred seventy-five thousand of them were black. Almost 17 million children have been born out of wedlock; less than half, eight million, were black. More than 13 million children have been born to teen-age mothers, of whom six million were black. And at least 16 million babies have been born into poverty, of which four million were black.
An American child is abused or neglected every 26 seconds; is born into poverty every half minute; is born to a teen mother every minute; is arrested for a violent crime every five minutes; and is killed by guns every two hours. These shameful numbers have small individual faces and feelings and suffering like that of 8-year-old Gail, who said:
In my neighborhood there is a lot of shooting and three people got shot. On the next day when I was going to school I saw a little stream of blood on the ground. One day after school me and my mother had to dodge bullets. I was not scared.
There is a church and a school that I go to in my neighborhood. There are robbers that live in my building, they broke into our house twice. There are rowhouses in my neighborhood and a man got shot, and he was dead. On another day I saw a boy named Zak get shot....When me and my mother was going to church we could see the fire from the guns being shot in 4414 building. I was not scared....
God is going to come back one day and judge the world. Not just my neighborhood.
I know these are really really bad things, but I have some good things in my neighborhood. Like sometimes my neighborhood is peaceful and quiet and there is no shooting. When me and my mother and some friends go to the lake we have a lot of fun....
I believe in God and I know one day we will be in a gooder place than we are now.
All across our nation, children like Gail are struggling to survive in a living hell, clinging to their faith and their families, and praying that one day they will be in a "gooder" place.
In a decent, democratic, and moral nation, children shouldn't have to pray and wait in fear. I believe that we are called, as people of faith, to be active participants in working to manifest that "gooder place" right here and right now for all of our children.
Can we compose and perform together another great movement of America's unfinished symphony of justice and opportunity? Can you and I act to move our nation back from the brink of violent chaos, racial regression, and class warfare Dr. King warned about? I believe we can.
Abraham Lincoln's Emancipation Proclamation and the 13th, 14th, and 15th Amendments completed the first movement of America's symphony of freedom and justice. Charles Houston, Thurgood Marshall, Dr. Martin Luther King Jr., Rosa Parks, Fannie Lou Hamer, and thousands of unsung white, brown, and black heroes and heroines, who tore down the walls of legally sanctioned American apartheid, composed the second movement.
Before the new millennium, you and I must and can compose the third movement. We must put social and economic underpinnings beneath the millions of African-American, Asian American, Latino, white, and Native American children left behind when the promise of the civil rights laws and the significant progress of the 1960s and '70s in alleviating poverty were eclipsed by the Vietnam War, economic recession, and changing national leadership priorities.
There was real progress. Some things did and do work despite today's political mythology and simplistic, indiscriminate attacks on all social programs. While it is healthy to sort out what works and does not work, it is essential to be specific, careful, and to resist policy by slogan. We are playing politics with human lives.
Black infant mortality rates decreased by half during the 1960s and '70s. Providing comprehensive health care to mothers and children, including cost-effective vaccinations and prenatal care, does make a difference. We need to ensure it for everyone, beginning first with universal coverage for children. Black child and family poverty decreased 40 percent, and poverty among the black elderly decreased 20 percent.
Millions of children have begun school ready to learn thanks to Head Start, and tens of thousands of youth got a chance to go to college thanks to targeted government support. In 1994, more than 7,500 black elected officials-nearly five times the number in 1970-now sit in decision-making circles. Dr. King would, and we should, be proud of this.
LET'S BUILD ON THIS foundation of progress and hope, rather than recklessly tearing it down. Let's thoroughly debate any proposals that may increase rather than decrease the gap between black and brown and white and rich and middle-class and poor children in America at a time when 15.7 million poor children lack the basic necessities of life. Let's talk about cutting poverty rather than cutting school lunches, remedial education, Head Start, and vaccinations. Let's prod our great nation to decide that our racial diversity will be its greatest strength rather than its fatal weakness and make our democratic ideals a banner of hope rather than a profile of hypocrisy.
Let's pray that God's Spirit will be born anew within and among us and help us mount a crusade across our land to stop the killing and neglect of children and heal our racial, class, age, and gender divisions. Every American leader, parent, and citizen must personally and collectively commit to reclaim our nation's soul and give our children back their hope, their sense of security, their belief in America's fairness, and their ability to dream about, envisage, and work toward a future that is attainable and real.
MARIAN WRIGHT EDELMAN is founder and executive director of the Children's Defense Fund, a national children's advocacy organization in Washington, D.C. This article is adapted from a sermon she delivered at the National Cathedral in Washington, D.C., on Martin Luther King Jr. Day, 1995.
CDF coordinates the Black Community Crusade for Children, which has committed itself to "Leave No Child Behind" and to assure every child a healthy, fair, safe, and moral start in life with the support of caring families in nurturing communities.