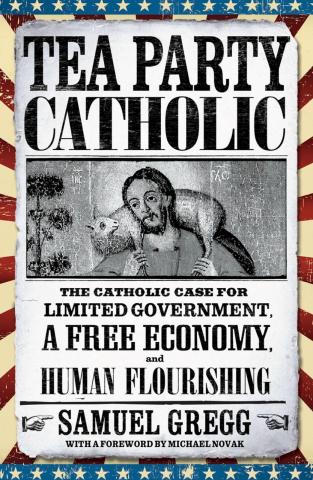 WHAT IS THE relationship between one's religious beliefs and one's economic and political views? Are some religious beliefs more "American" than others?
These questions come to mind in reading Samuel Gregg's Tea Party Catholic: The Catholic Case for Limited Government, a Free Economy, and Human Flourishing. Gregg suggests that religion directly informs—or should inform—our understanding of political and economic issues and that religious, economic, and political liberty are inextricably bound. A perceived or real "attack" on one, he contends, is an attack on all.
Gregg is director of research for Acton Institute, a libertarian think tank whose core principles seek the "integrating [of] Judeo-Christian truths with free market principles."
In Tea Party Catholic Gregg writes of a "new type of Catholic American" who is grounded in a "dynamic sense of orthodoxy" but whose "Americanness" is defined by faith in free market principles. Tea Party Catholic details how free market principles and a view of government "with clear but constrained economic functions" have, Gregg argues, not only deep roots in U.S. political history but also in Catholic tradition. Thereby, he suggests, any U.S. Catholic differing in his or her economic and political beliefs has neither a proper understanding of the United States' founding nor of the teachings of the Catholic Church.
Gregg's attempt to sacralize libertarianism is not consistent with Catholic doctrine: It runs counter to stated positions of the Vatican and the majority of Catholic theologians and economists. At a recent conference at The Catholic University of America one of Pope Francis' advisers, Cardinal Oscar Rodríguez Maradiaga, said that in commenting on free market and libertarian influences on our global economy, Pope Francis gave a "sharp prophetic verdict: 'This economy kills.'"
Gregg tries to make the case for his Catholic-libertarian mash-up through the figure of Charles Carroll of Carrollton, the only Catholic signer of the Declaration of Independence. Although Carroll's appearance in the book is surprisingly sporadic and fleeting given the book's introduction, Carroll is meant to connect the dots in Gregg's story between Catholicism, free market economics, and the founding of the U.S.
Tea Party Catholic is meant to be a neatly packaged case for why Catholics, as a matter of faith and as good U.S. citizens, should adhere to free market ideology. In the end, however, it's too neatly packaged, coming off as historically misleading and politically opportunistic.
The book reads much like the Republican Party platform, with each plank hung upon the awkward framework of Catholic teaching and Revolutionary War ideology. Gregg's treatment touches numerous current policy debates, including immigration reform, the Affordable Care Act, monetary policy, budget deficits, the Paul Ryan budget, and unions. Each topic is argued from a free market perspective and draws selectively upon the writings of Catholic theologians.
Tea Party Catholic is argument by omission, whether it is making the case for a free market foundation to Catholic teaching absent countervailing evidence or commenting on early U.S. history. Reading present-day assumptions into the writings and lives of those in the past is always a risky, though currently quite popular, proposition, and it is no less so here. This, ultimately, is Gregg's downfall. Claiming that the Revolutionary War generation, or any one revolutionary in particular, was a paragon of virtue and an exemplar of liberty is to disregard the complexity of the human experience and to misconstrue the past. Nor is it accurate to portray the Revolutionary generation as a unified group of free marketers throwing off the shackles of mercantilism.
The struggle of the founders with slavery is well-known. A look at tariff history and early efforts to protect U.S. manufacturing shows that grievances cited by the colonists in the quest for independence, such as taxation and restrictions on trading, were suddenly not nearly as egregious as they worked to establish a national government.
Charles Carroll, Gregg's champion of liberty, was a prominent Federalist who favored the creation of a strong federal government. He represented Maryland as a senator when the first U.S. Congress overwhelmingly passed the Tariff of 1789 as its first major piece of legislation in an effort to raise revenue and protect U.S. industry. And besides being the only Catholic to sign the Declaration of Independence, Carroll was also the colonies' largest slaveholder.
The past, like the present, belies neat packaging.
Jennifer Moon is a freelance writer in Bellingham, Wash. She holds a Ph.D. in early American history from the University of Virginia.