End the War in Afghanistan, Work for Peace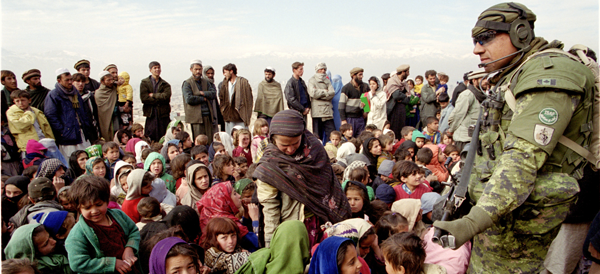 Sojourners believes it is time to bring the war in Afghanistan to an end.
There is no justifiable reason for continuing, but many reasons – human, financial and spiritual – to end. This page provides information, messaging and resources that enable Christians and the church to be a prophetic witness against continued U.S. military involvement in Afghanistan, and take responsibility for the consequences of war in our country and in Iraq and Afghanistan.
POLICY RESOURCES

TAKE ACTION: Tell President Obama it is time to end the war

An open letter from Faith Leaders to President Obama, December 2009
FROM THE MAGAZINE - ON AFGHANISTAN

March 2011: Hearts & Minds: The Cost of War - Today, too few know the cost of war.
by Jim Wallis

March 2011: Finding the Way Out - Why it's time to end the war in Afghanistan, and how to do it.
by David Cortright

March 2011: The Human Toll - Counting the costs of Obama's 'good war.' A report from Afghanistan.
by Eric Stoner

March 2011: Securing Women's Rights - When the Taliban ruled, they prevented girls from going to school. Who's stopping them now?
by Farah Marie M.

April 2010: Is the Afghanistan War Just? - President Obama underplays the importance of alternatives to war.
by Drew Chritiansen, SJ

April 2010: Beyond the 'War on Terror' - Why development, not military action, is key to Afghanistan's future.
by Theo Sitther
FROM THE MAGAZINE - ON WAR, SOLDIERS AND VETERANS

March 2011: The Jonah Effect - An American soldier runs from God to Iraq... but it wasn't far enough.
by Evan Knappenberger

February 2011: Wrestling with Demons - He was in the army. Then he realised that as a Christian, he couldn't kill. An Iraq vet grapples with conscience and war.
by Logan Mehl-Laituri

December 2010: The Right to Refuse to Bear Arms - A growing movement of veterans promotes selective conscientious objection.
by Logan Mehl-Laituri

June 2008: 'A Theft from Those Who Hunger' - Rampant military spending is making us less secure.
by Frida Gerrigan

June 2007: The Poverty Draft - "According to a 2007 Associated Press analysis, 'nearly three-fourths of [U.S. troops] killed in Iraq came from towns where the per capita income was below the national average. More than half came from towns where the percentage of people living in poverty topped the national average.'"
by Jorge Mariscal

June 2007: The Hungry Spirit: Discerning the Spirit of Iraq - Our children are coming home from the front lines - and they have questions.
by Rose Marie Berger

October 2006: Valor, Honor, Conscience - Stories of U.S. soldiers who are saying no to war due to conscience.
by Stacia Brown

May - June 2003: Hearts and Minds: The Lessons of War - Ten lessons from participating in war.
by Jim Wallis
FROM THE MAGAZINE - ON NONVIOLENCE AND PEACEMAKING

November 2010: Celebrate the Peace Parade - books on nonviolence in theory and practice
by Rose Marie Berger

November 2010: More Books on Nonviolence - history, strategy and community.
by Rose Marie Berger

January 2005: Winning the Peace and 10 Practices of Just Peacemaking - For peacemaking to be effective, we must not only say no to war, but provide viable alternatives.
by Glen Stassen

January - February 2003: Patriotism is Not Enough: Christian conscience in a time of war - "God's values are clear; so too ought ours be. If you love the Lord, you will love the things the Lord loves. There is no other way around it."
by Peter J. Gomes

September - October 2002: With Weapons of Will - "Strategic nonviolent action is not about being nice to your oppressor, much less having to rely on his niceness. It's about dissolving the foundations of his power and forcing him out."
by Peter Ackerman and Jack DuVall

January - February 2002: Hard Questions for Peacemakers - After the 9/11 attacks, the U.S. waged war against Iraq and Afghanistan. Despite these challenges to our commitment that following Jesus leads us to the path of nonviolence, Christian peacemakers must go deeper in our commitment.
by Jim Wallis

January - February 2002: The Tonto Principle - We have to step back and ask what we Christians have done that we find ourselves so implicated in the world that we cannot differentiate our response as God's people from the American people's response."
by Stanley Hauerwas

January - February 2002: Change from Within - The most significant ways to deal with the sources of terrorism will emerge more from within the circles that are close to it rather than from sources that depend upon it from outside.
by John Paul Lederach

January - February 2002: The Bonhoeffer Assumption - American thinkers who have used Bonhoeffer as a way of justifying the just war theory overlook his clear statement that he does not regard this as a justifiable action—that it's a sin—and that he throws himself on the mercy of God.
by Walter Wink
RESOURCES FROM THE SOJO STORE
March 2011: Afghanistan
Why it's time to end the war, and how to do it.
- The human cost, abroad and at home.
- Securing rights for women and girls after the exit.







Christians and Islam Discussion Guide (PDF)
This discussion guide will lead users through a study of the important stories of shared history, theological similarities and differences, and aspirations for social justice that both Christians and Muslims share as communities of faith. Religious differences provide fertile ground for animosity and misunderstanding. Yet as Christians, we are called to work for truth and reconciliation. Over the years, both Muslims and Christians have dealt with extremists who distort the character of true belief. Significant, intelligent dialogue and the development of authentic friendships across religious lines are key to deepening our mutual faith.
4 sessions, 16 articles, 57 pages.
Christians and Nonviolence Discussion Guide (PDF)
Nonviolent love for one's enemies is not an optional accessory in Christian living, but rather a key part of following Jesus. During the past 50 years, most large-scale overthrows of repressive regimes—in East Germany, South Africa, the Philippines, and Chile, to name a few—have happened through nonviolent resistance rather than military action.
4 sessions, 10 articles, 37 pages.
Christians and a Moral Response to Terrorism (PDF)
Terrorism aims to inspire fear, and terrorist recruiting thrives on a cycle of violence. How can and should people of faith respond, with wisdom and biblically grounded behavior, to the shattering experience of, or the nerve-wracking fear of, terrorism? What is a moral response to terrorism?
4 sessions, 10 articles, 41 pages.
Afghanistan in Sojourners Magazine
From Sojourners Media Advisories and Press Releases
On the God's Politics Blog