Contribute to Sojourners
Support Sojourners 'Voting for Us' campaign today and we'll send you a free bumper sticker!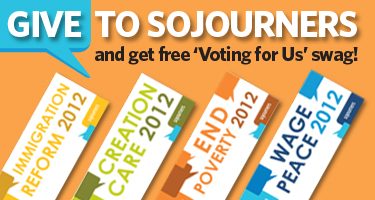 No matter how bad the election season gets, we need to stay engaged and use our vote to speak on behalf of poor and vulnerable people. Donate today to support this campaign and all of Sojourners work, and we'll send you a free bumper sticker so you can promote your values during the election!
Your contribution is critical to this ongoing work and a gift of any size makes an impact.
The need for Sojourners' work is growing, and we rely even more on your faithful and generous support. Your ongoing gifts to Sojourners make a huge difference! They allow us to:
Build the Sojourners movement to end poverty and put faith into action for social justice.
Inform, educate, and mobilize millions of people through media, campaigns, and events.
Reach 250,000 people weekly with issue analysis, faith-based messaging, and opportunities to take action on issues of concern in our faith communities.
Give Today to support this and all of Sojourners' work!